Smart phones have changed the way we work. It is now possible to record, edit, and broadcast just using your mobile phone.
This training course will show you how to using portable electronic devices to maximum effect in order to produce content for broadcast or social media platforms.
Experienced TV producer from BBC in the UK teaches how to get best results when using simple smart phones for recording video and for doing live injects into programmes
Our practical, 2-day, hands-on course will provide you with the tools to develop your skills.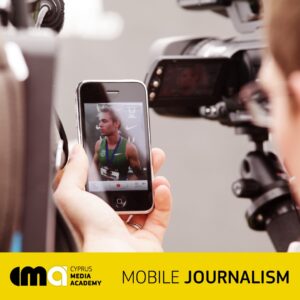 COURSE
OVERVIEW
Develop skills for iPhones and Smartphone users for live injects
Practical, hands-on & energetic course with international BBC trainer
Additional features of the course include:
finding stories , story construction , interviewing , writing to pictures , voice overs and captions , video editing , shot framing and shooting action , extra equipment recommendation
TRAINING
INVESTMENT
Our special fee of € includes:
2 x 6-hour sessions over 2 days
Course based in CMA classroom and locations
Course materials
Feedback notes for each participant
Participation certificate
Refreshments
We offer discounts to students and to participants who bring referrals.
Our facilities have been certified as a Vocational Training Structure by the Human Resource Development Authority of Cyprus.
To enrol, please contact Christina Kallis in our administration department.
E-mail: [email protected]
Telephone: (+357) 99 036464
COURSE
TRAINER
Simon Waldman
Simon is highly experienced in his field. His background is broadcast journalism in the BBC and has edited all the main national BBC news programmes.
Currently, he is both an editorial consultant and a trainer of journalists in the skills of Mobile Journalism. Additionally, he teaches journalism courses at three universities: London Metropolitan, St Mary's and the University of Oregon.
For the BBC and for other international organisations, Simon also teaches Smartphone Newsgathering. Examples of video shot on iPhone and edited on Premiere Pro:
https://simonwaldmanmedia.com/training (top right video: "Broadcast journalism training")
https://www.youtube.com/watch?v=kYIzliKHIyc&feature=emb_logo
KIT
REQUIRED
The areas which need the most help when shooting with a mobile phone are:
Stability
Sound
Light